LEGOLAND® Deutschland
A park for all the family, based on the popular LEGO bricks
LEGOLAND® Deutschland – See www.legoland.de/en/Opening-hours for exact dates.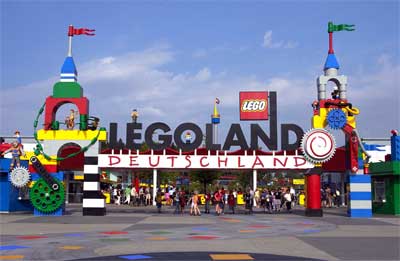 July + August 2021: NINJAGO® Anniversary Weeks
Celebrate 10 years of LEGO® NINJAGO® as real and virtual worlds collide, and a great adventure awaits!
Master Wu and his team of ninja have been searching for their missing Golden Amulet for a very long time. Without it, and the secrets it holds, NINJAGO® is in trouble.
Join Kai, Cole, Zane, Jay, Lloyd and Nya to 'BE NINJA' on the quest to find the six golden fragments and learn their moves as real and virtual worlds collide. Restore the Golden Amulet and be rewarded as you complete the challenges.
Plus, continue the adventure as we celebrate 10 years of LEGO® NINJAGO® with:
A cool augmented reality ninja mission (#BENINJA)
Meet the ninja – character meet and greet
Breathtaking Ninja Action at the LEGO® NINJAGO® Summer Show in the LEGO® Arena
BE NINJA and join the quest!
Note: You have free entry to all of our events & shows with your LEGOLAND® tickets!
About LEGOLAND® Deutschland
LEGOLAND® Deutschland, which covers an area as large as 26 football fields, is divided into ten theme areas. Each theme area is designed to ensure that heroes of all ages will find tons of things to explore and enjoy at the LEGO® experiment centers, roller coasters, water attractions and shows. The whole family can embark on a day-long voyage of discovery and adventure.
ENTRANCE AREA
Waving flags and two towers mark the entrance area to LEGOLAND® Deutschland. Up to 20 cash tills guarantee a quick entry into the park, even on very busy days. At the information desk you can obtain further information about the park. And if you are looking for further information about Günzburg and the surrounding region, the Tourist Information will be delighted to help you. It is recommended that you plan at least one full day for your visit to LEGOLAND® Deutschland, so you have time to visit all rides and attractions.
MINILAND

See the world from Gulliver's perspective in MINILAND, the centerpiece of every LEGOLAND® Park. Nationally and internationally known buildings have been rebuilt in detail on a scale of 1:20. Guests from Germany will recognize buildings from their home area. You can stroll past the Berlin Reichstag, Frankfurt's financial district, High Five: Here five of the tallest skyscrapers in the world have been reproduced using more than 400,000 LEGO® bricks on a scale of 1:150. Visitors from Italy, the Netherlands and Switzerland, too, will find buildings from their home countries. Not only Italian visitors will love the recreation of Venice complete with canals and gondolas.
All the buildings are worth a close look, to see what's happening in and around them. LEGO® figures are working on the facades, strolling through the streets, and can be spotted hiding behind windows. The whole of MINILAND is animated, and guests – big and small – can bring the models to life by pressing buttons and turning switches.
IMAGINATION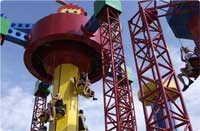 Imagination reigns supreme when inventors and designers big and small discover not only their creativity but also their muscle power: Build your own racing car and test its speed! Pull yourself up into the air by a nine meter rope at the Kids Power Tower! Take a ride around the Imagination area above the heads of the other guests in the Pedal-A-Car! Or enjoy the magnificent view from the Observation Tower! – The realm of fantasy definitely knows no bounds in IMAGINATION.
LEGO® X-TREME

X as in eXtra large. In LEGO® X-TREME everything is faster, bigger and even more action-packed. Speedy racers can show they've got what it takes when speeding over the water in the Aquazone Wave Racers. The very brave can also volunteer as test drivers for The Great LEGO® Race, a high-speed coaster that is eighteen meters high. Another highlight is the 4D-Movies in the LEGO Studios with many surprise effects.
A highlight of LEGO® X-TREME is LEGOLAND® ATLANTIS by SEA LIFE™: This indoor Underwater World is inhabited by more than 2,000 fish together with models made from over a million LEGO® bricks.Take an exciting trip along the ocean floor to the sunken city of Atlantis. Thre you will meet sharks, rays and other tropical fish. Particularly brave visitors can come face to face with the creatures of the deep in the eight-meter-long glass tunnel.
KNIGHTS' KINGDOM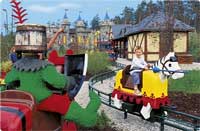 A royal castle with a great inner courtyard forms the center of KNIGHTS' KINGDOM™. The only way into the interior is via a drawbridge, and this is where your journey into the past begins: The Fire Dragon takes visitors on a fantastic trip through the interior of the castle. Having watched valiant knights, lovely damsels and even the royal family together a minute before, you suddenly find yourself racing on the dragon outdoors. Additional medieval highlights include panning for gold, championships on LEGO® steeds and much more.
ADVENTURE LAND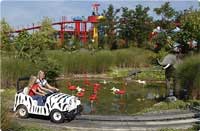 This area of the park is hidden in the wild jungle. Surrounded by bushes and trees, wild animals and fantastic creatures, tents and bamboo huts are the perfect setting for learning about the adventures of LEGO® hero Johnny Thunder. Join him on a Jungle X-pedition through grottos and jungles – and down the twelve-meter-high waterfall. Younger visitors can paddle through a land of adventures in the fantastic new Canoe X-pedition! Or explore the savannah on the Safari Tour passing 90 wild LEGO animals!
PIRATE LAND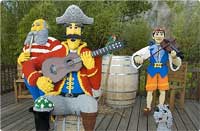 Covering an area of some 5,000 square meters, PIRATE LAND is the largest expansion of the park since it first opened. In addition to a major new ride, this area directly adjoining ADVENTURE LAND also contains other piratical highlights. The entire family can play an interactive role as seafarers and pirates. Embark on an exciting voyage of discovery through this fascinating LEGOLAND® world!
LEGO® CITY

A visit to LEGO® CITY is absolutely essential. Its urban life is buzzing with cars, planes and cranes moving around factories, the port, highways and urban settlements, an airport and a harbor. LEGO® CITY is also home to the new HERO FACTORY, a fantastic and powerful MEGA ride. Visitors can make their first driver's license at the Hyundai LEGOLAND® Driving School or go on a boat trip in the harbor. Other highlights at LEGO® CITY include the LEGO Factory where LEGO® bricks are made in front of the visitor's eye. Don't forget to take your souvenir brick home with you!
LEGO® NINJAGO® WORLD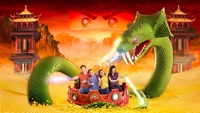 Immerse into the Asian monastery world of LEGO® NINJAGO® on 7,000 square metres. Train your ninja skills together with the LEGO NINJAGO heroes Kai, Cole, Jay, Zane, Nya and Lloyd before advancing to the grand finale: On board of specifically built cars, you help the ninjas to defeat evil at LEGO NINJAGO The Ride.
PHARAOHS' LAND
Look forward to an exiting mission at the Pyramid Rallye: Rescue the magical treasures from the claws of the evil pharaoh Amset-Ra. To complete this task, your whole family must stick together and bravely take action to overcome the Pharaoh's obstacles.
The Desert X-cursion takes you into lofty heights: Even more exiting adventures await you on this journey. Watch out for the flying mummies who want to recapture the Pharaoh's rescued treasures. Are you able to escape with the valuable load?
Will you succeed in your exciting mission in the PHARAOHS' LAND? Rest assured, plenty of action is guaranteed.
Stay overnight
In the world's first LEGOLAND® holiday village visitors can spend the night right next to the park in one of 72 LEGO®-themed chalets or in the large caravan area. Each chalet has two family rooms for 4 or six persons. Save 5 Euros with an online booking or call +49 (0)89 288527 300.

Experience the adventure in the Knight's Castle in the LEGOLAND® Holiday Village. With 68 themed rooms on two floors, guests receive truly royal treatment: while the little princesses and knights are conquering the castle over the drawbridge or ascending the throne in the entry hall, their parents can relax and unwind in splendid surroundings.
The 32m2 family rooms have an area for parents with a king-size bed, a sleeping area for children with up to two bunk beds and a separate bathroom. The rooms are tastefully decorated and have numerous LEGO models, so that guests can spend the night as real lords of the castle in a LEGO® kingdom.
The Knight's Castle is situated next to the idyllic Village Lake and depending on the room offers wonderful views of the Holiday Village and the surrounding forests. The LEGOLAND® Park is right next door, easily reached by a short footpath.
Welcome pirates and all those of you who want to become one!
You are looking for an accommodation ashore for the night, want to feast and are ready to experience exciting pirate adventures? If so, the Pirate Island – a meeting point for infamous buccaneers – is the perfect location for you.
More info . . .
LEGOLAND® Deutschland, LEGOLAND Allee, 89312 Günzburg
Tel.: 0180 5 700 757 01*
(*14 cent/min. from landlines within Germany; mobile phone max. 42 cent/min from within Germany. Rates for calls from outside Germany may vary depending on telecommunications provider.)
For further park information please check www.legoland.de/en/
How to get there?